Ian Fleming's birth anniversary is May 28th. This English journalist and novelist created the James Bond series, beginning with Casino Royale in 1953.
He also penned the children's classic Chiddy Chiddy Bang Bang.
To celebrate Ian Fleming, stop by your hometown library and check out some of the following titles. Don't forget to look at materials on OverDrive as well! This is a great time to explore the inspiration for the numerous James Bond movies.
Casino Royale: A James Bond Novel by Ian Fleming
In the first James Bond novel, originally published in 1953, 007 takes on Le Chiffre, a French communist and paymaster of the Soviet murder organization SMERSH, as the suave agent becomes involved in a high-stakes game of baccarat, enjoys a fiery love affair with a sexy female spy, and endures torture at the hands of a master sadist.
---
Live and Let Die: A James Bond Novel by Ian Fleming
Beautiful, fortune-telling Solitaire is the prisoner (and tool) of Mr Big--master of fear, artist in crime and Voodoo Baron of Death. James Bond has no time for superstition--he knows that this criminal heavy hitter is also a top SMERSH operative and a real threat. More than that, after tracking him through the jazz joints of Harlem, to the everglades and on to the Caribbean, 007 has realized that Big is one of the most dangerous men that he has ever faced. And no-one, not even the mysterious Solitaire, can be sure how their battle of wills is going to end...
Diamonds are Forever: A James Bond Novel by Ian Fleming
James Bond encounters danger, passion, and intrigue when he attempts to infiltrate and expose a mob of American gangsters responsible for an international diamond-smuggling scheme, with the help of gorgeous Tiffany Case.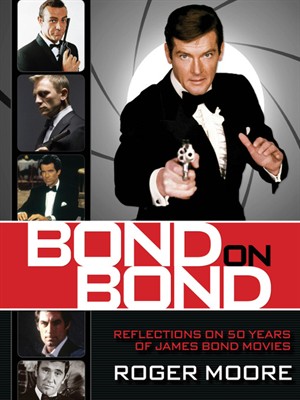 Bond on Bond by Roger Moore
The Bond movies remain the longest continually running film series in movie history, and 2012 marks its fiftieth anniversary. To celebrate these films and their cultural heritage, Roger Moore has written a book that features all the Bond movies, along with a wonderfully witty account of his own involvement in them. From the girls to the villains, the cocktails to the cars, and gadgets to the locations and everything else, this beautiful book is illustrated with hundreds of iconic images from all the films plus many previously unseen photos from Moore's personal collection. This is the ultimate James Bond book, written by the ultimate insider, with all the affection and good humor we've come to expect from Roger Moore.