Southwest Oklahoma City Public Library
Details

Published: 23 August 2016

23 August 2016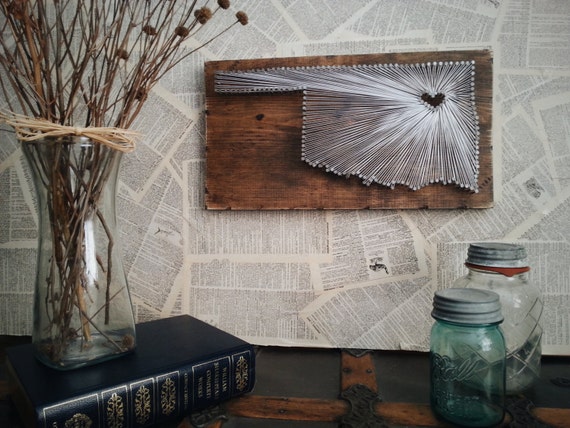 Our next Pinterest Club Program: String Art will meet on Thursday, September 1st at 6 p.m. We'll be creating art using wood, nails, and string! Participants will make an Oklahoma string art wall hanging to take home. Our projects will be used on sustained wood. This program is for adults and registration is required.
We realize that many people may not know what string art is, and we wanted to re-introduce you to this art form! We have a list of books in our catalog and a YouTube video that show you step-by-step how to create the art.
Non-Fiction
Take a Ball of String : Beautiful Projects for Your Home, by Jemima Schlee.
Everyone has at least one long-forgotten ball of string lurking at the back of a drawer. 'Take a Ball of String' shows us how to transform this everyday mundane item into an array of exciting makes. The pleasingly tactile nature of string makes it perfect for creating some crafty treasures. From rustic garden twine to soft cotton braid, these eye-catching projects will inspire you to get knitting, crocheting, coiling and knotting.
Make! : over 40 fantastic projects with 16 exclusive designs, by Cath Kidston
Over 40 fantastic projects with 16 exclusive designs!
Over forty fantastic projects with sixteen exclusive designs!
Raw + material = art : found, scavenged and upcycled, by Tristan Manco
Get an idea of how artists use their skills to create sustainable resources. Around the world are inspiring and innovative artists that create art out of things you wouldn't think of ever using.
Upcycled Chic and Modern Hacks : Thrifty ways stylish homes, by Liz Bauwens and Alexandra Campbell ; photography by Simon Brown
"Whatever your style, 'Upcycled Chic and Modern Hacks' will inspire you to look at your home in a new way and transform something mundane into something fabulous."--Dust jacket.

DIY, Dammit! : A Practical Guide to Curse-Free Crafting, by Joselyn Hughes
Doing it yourself always seems so simple. Only 3 steps! Just 5 supplies! Less than 30 minutes! Yeah right.The truth is, craftin' ain't easy. But it also doesn't have to be an exasperating lesson in your own clumsiness.Joselyn Hughes knows the struggle. She's lived it. And now, with DIY, Dammit!, she offers up foolproof craftables that deliver maximum cute with minimal effort. There are easy-to-follow instructions and realistic shortcuts—because waiting for paint to dry is as boring as...well, you know.With Joselyn by your side you'll laugh, learn, and end up with handcrafted creations that will impress your friends, family, and strangers you accost on the street. She's already made all the mistakes, so you don't have to. What are you waiting for?
If you'd like to see this art form in action, check out this YouTube video tutorial on creating string art.
We hope to see you at the program!