NASA wants YOU! The Southwest Oklahoma City Public Library will show you how to become a citizen scientist by using the GLOBE Observer app to collect data for NASA to use in their studies of our climate and its changes. Use our Schedule a Librarian service to schedule a one-on-one appointment with a staff member to go over the app.
If the field of science interests you, we've got some resources for you to use to continue your studies:
Citizen Science: how ordinary people are changing the face of discovery by Caren Cooper
Adult Nonfiction 507.2 CO and Hoopla eBook
Cites the essential contributions of millions of ordinary people who contribute to the scientific process by volunteering in cooperation with scientists to help collect and discover information, tracing the history of citizen scientists and how they are reshaping scientific awareness.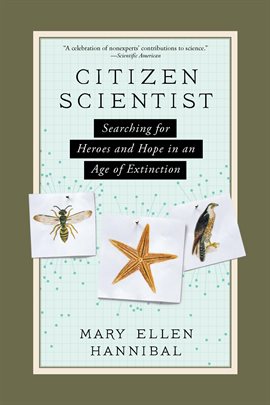 Citizen Scientist by Mary Ellen Hannibal
Hoopla eBook
Award-winning writer Mary Ellen Hannibal has long reported on scientists' efforts to protect vanishing species, but it was only through citizen science that she found she could take action herself. As she wades into tide pools, spots hawks, and scours mountains, she discovers the power of the heroic volunteers who are helping scientists measure--and even slow--today's unprecedented mass extinction. Citizen science may be the future of large-scale field research--and our planet's last, best hope.
Rachel Carson and Her Sisters: extraordinary women who have shaped America's environment by Robert K. Musil
Adult Nonfiction 333.72 MU
Rachel Carson was the first American to combine two separate strands of American environmentalism--the love of nature and a concern for human health. Carson is often perceived as a solitary great woman, whose work single-handedly launched a modern environmental movement. But as Musil demonstrates, Carson's life's work drew upon and was supported by already existing movements, many led by women, in conservation and public health. This book helps underscore Carson's enduring environmental legacy and brings to life the achievements of women writers and advocates, all of whom overcame obstacles to build and lead the modern American environmental movement.
The Water Knife by Paolo Bacigalupi
Adult Science Fiction SF BACIGALUPI, Large Print LP F BACIGALUPI, Adult Compact Disc CD BACIGALUPI and OverDrive eBook
The American Southwest has been decimated by drought. Into the fray steps Las Vegas water knife, Angel Velasquez. Detective, assassin, and spy, Angel "cuts" water for the Southern Nevada Water Authority. When rumors of a game-changing water source surface in Phoenix, Angel is sent to investigate. There, Angel encounters Lucy Monroe, a hardened journalist, who knows far more about Phoenix's water secrets than she admits, and Maria Villarosa, a young Texas migrant, who dreams of escaping north to those places where water still falls from the sky. With Phoenix teetering on the verge of collapse and time running out for Angel, Lucy, and Maria, their only hope for survival rests in one another's hands.
The Overstory by Richard Powers
Adult Fiction F POWERS, OverDrive eBook
A novel of activism and natural-world power presents interlocking fables about nine remarkable strangers who are summoned in different ways by trees for an ultimate, brutal stand to save the continent's few remaining acres of virgin forest.
Prodigal Summer by Barbara Kingsolver
Adult Fiction F KINGSOLVER, OverDrive eBook and Audiobook, Hoopla Audiobook
Wildlife biologist Deanna is caught off guard by an intrusive young hunter, while bookish city wife Lusa finds herself facing a difficult identity choice, and elderly neighbors find attraction at the height of a long-standing feud.
Hoot by Carl Hiaasen
Teen Fiction TEEN F HIAASEN, Teen Compact Disc TEEN CD HIAASEN, OverDrive eBook and Audiobook
Roy, who is new to his small Florida community, becomes involved in another boy's attempt to save a colony of burrowing owls from a proposed construction site.
Citizen Scientists: be a part of scientific discovery from your own backyard by Loree Griffin Burns
Children's Nonfiction CNF 590.723 BU
Discusses how to help scientists learn about animals. Includes Fall butterflying -- Winter birding -- Spring frogging -- Summer ladybugging.

Backyard Bears: conservation, habitat changes, and the rise of urban wildlife by Amy Cherrix
Children's Nonfiction CNF 599.785 CH
North Carolina's black bears were once a threatened species, but now their numbers are rising in and around Asheville. But what happens when conservation efforts for a species are so successful that there's a boom in the population? Author Amy Cherrix follows the scientists who, in cooperation with local citizen scientists, are trying to answer to this question and more. Part field science, part conservation science, 'Backyard Bears' looks at black bears--and other animals around the globe--who are rapidly becoming our neighbors in urban and suburban areas.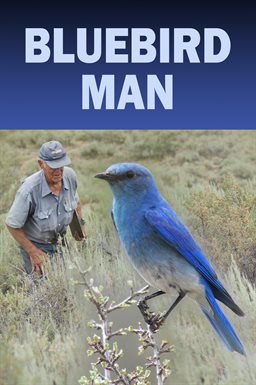 Bluebird Man by Neil Paprocki, filmmaker
Hoopla and Kanopy Streaming Video
Bluebird Man tells the story of 93-year-old Alfred Larson, a self-taught conservationist who has committed the last 35 years of his life to saving Idaho's bluebirds. In the late 1970s Al was inspired to join a growing movement of citizen scientists who over the past three decades have helped reverse bluebird declines by setting up networks of nestboxes specifically designed to provide nesting habitat for this emblematic bird.